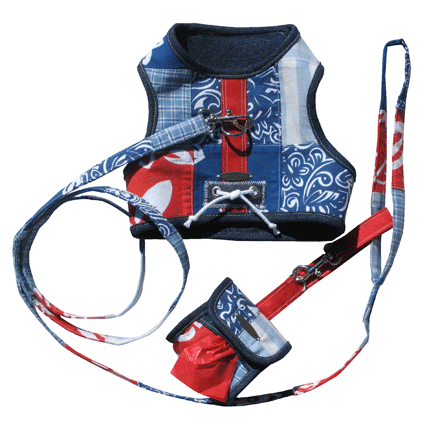 Surfer Dude Harness
Kow-a-bun-ga baby! Surf's up and it's time to grab your surfboard and chase that endless summer!
The all cotton fabric is made from cut and seamed squares of block print florals, small scale plaids and island batiks, all colored into a story of red, white and denim blues. We chose an indigo denim for the lining and the binding trim, then added a neat "surf short" waistband detail, using grommets and a white cord. The silver D-Ring is firmly held in place by the red nylon canvas, then triple stitched to 3 layers of fabric underneath for added strength and durability. Velcro fasteners at the neck and under the belly stay secure and have 2-3 inches of adjustment.
Scroll down to add the matching Surfer Dude 5 Ft Leash and Clutch
100% Cotton, machine wash cold. Tumble Dry low heat.
Matching Accessories for the Surfer Dude Harness